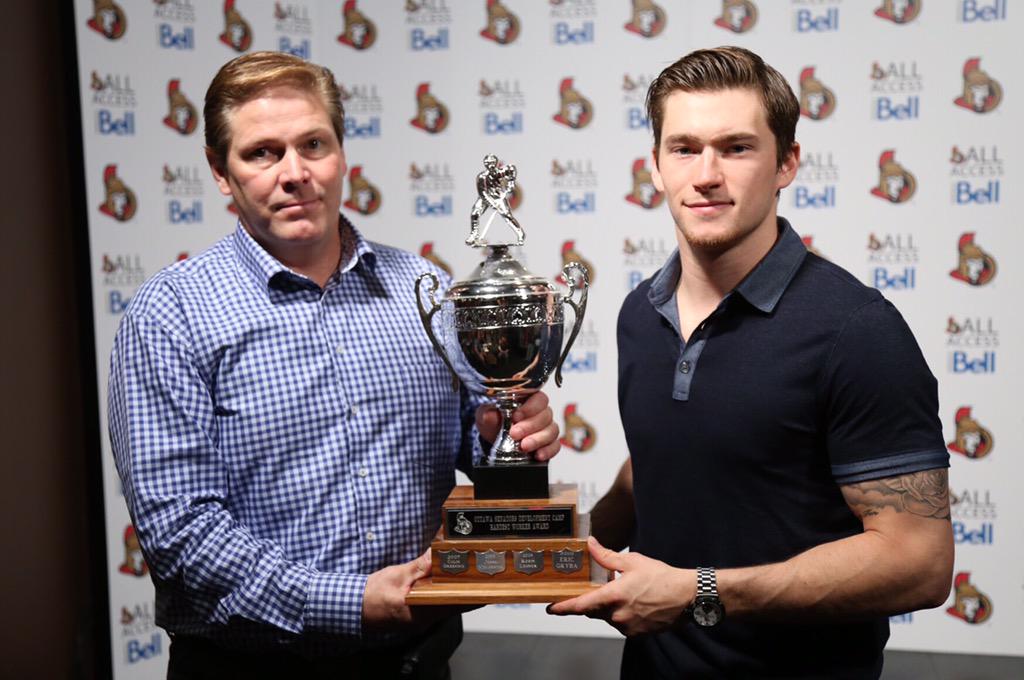 It's always fun looking at which free agents the Sens invited to their development camp, as occasionally these players are signed (Parker Kelly is the most recent example; more commonly players will get invited to the AHL-camp in the fall):
Defense
Jonathan Aspirot DL DOB 1999 QMJHL 57-12-23-35 0.61
Returns from his invite to the camp last year; the most distinguishing thing about him are his penalty minutes and we know the org loves that stat.
Alexis Binner DL DOB 1998 NCAA 32-2-9-11 0.34
Left the NCAA early (Maine) to sign with Vasterviks in the Allsvenskan. Back in 2018 HP described him as offensively limited with poor hockey sense, but good defensively (as we know, the org believes the latter is what's important).
Trenton Bourque DL DOB 1998 OHL 57-4-8-12 0.21
Inexplicably drafted by St. Louis (6-175/17)–strikes me as a warm body to fill out the dev camp roster.
Clay Hanus DL DOB 2001 WHL 68-8-19-27 0.39
HP was very high on him for this year's draft (fourth-round), with FC putting him in the sixth and McKeen's not listing him. As someone still draft-eligible there's not much to explore here.
Connor McDonald DR DOB 1999 WHL 68-19-31-50 0.73
Back in 2017 HP profiled him, calling him a good defensive player who was adequate offensively.
Jordan Power DL DOB 2001 USHL 58-3-15-18 0.31
Committed to St. Lawrence; these are very weak USHL numbers, but he did put up career high PIMs (he also played for Rockland the previous season, so fits the local boy niche).
Cade Townend DL DOB 1999 CCHL 56-13-25-38 0.67
Committed to Mercyhurst; another local boy (playing for Carleton Place)–these are unexciting, tier-2 numbers.
Nicholas Walsh DR DOB 1997 Cdn U 29-6-23-29 1.00
5'10 former QMJHLer had a good season in the Canadian University system (for context a top University season is in the 1.4+ PPG range). Over the last few years the org has dug deep into the USports scene looking for prospects for the AHL (Jordan Murray etc), so where he's playing won't hurt his prospects.
Forwards
Stephen Anderson RWDOB 1994 Cdn U 30-12-21-33 1.10
Another former QMJHLer in the University system (his numbers aren't overwhelming, see above).
Jean-Christophe Beaudin C/RW DOB 1997 AHL 62-7-9-16 0.25
Inexplicably played 20 games with Belleville this past season (after doing the same for Colorado); he's a failed Avalanche draft pick (3-71/15); he could be useful in Brampton, but the org seems to like him quite a bit, so it's possible he'll get an AHL-deal. [I was reminded he had a year left on his ELC when the Sens picked him up when they dumped Max McCormick, explaining both the games played and, presumably, the invite.]
Zachary Okabe RW DOB 2001 AJHL 60-31-27-58 0.96
5'9; he's committed to St. Cloud and was draft-eligible this season (no one had him selected or provided a profile).
Mark Simpson C/LW DOB 1995 Cdn U 30-10-12-22 0.73
Yet another former QMJHLer playing in the USport ecosystem; he's 6'6, which I think is the primary reason he's here (no draft guide discussed or listed him when eligible).
What are our patterns? A lot of defensemen (a need in the minors); most of these players are offensively limited, but defensively sound; there's very strong representation from the QMJHL (4) and local boys (2). The major change from last year is a reduction in the number of college players.
This article is written by Peter Levi (@eyeonthesens)