Three years ago I wrote an article about hockey's declining popularity, putting it in the context of a general decline in traditional sports. It was around that time that the NHL finally saw scoring increase after seven years of stagnation (an increase whose cause is difficult to point too; you can look at historical scoring levels here). In that article I said that most of the arguments to explain the decline were about inter-sport competition, but that's no longer the argument being made. Forbes blamed Millennials for lower participation in sport and altered viewing habits (cutting the cord with cable, etc). I think there's some truth to that, but my point was that the interest in competitive games has not changed, but has shifted to things like e-sports. What sparked this discussion in the media was information put out in 2017 by Market Watch about the aging trend. Let's briefly look at that data (the data points are 2000, 2006, and 2016; the number represents the average age of the fanbase):

Golf N/A-59-64
Tennis 51-56-61
NASCAR N/A-49-58
MLB 52-52-57
WNBA 42-49-55
Olympics 45-50-53
NCAA football/basketball 47/44-48/48-52/52
NFL 44-46-50
Boxing 45-47-49
MMA N/A-N/A-49 (see below)
NHL 33-42-49
NBA 40-40-42
MLA N/A-39-40
MMA was not included on the Market Watch list, presumably because of how niche it was during the first two data points, but Sports Business Journal did the research in 2017 and pegged it at 49. In the key demographic the number of avid sports fans has dropped from 42% to 34% over the past decade. In the original article the leagues were all warned by social psychologists that they were in trouble, but they were ignored because it was believed that once younger people hit 35+ they would re-engage (something that has not happened).
When it comes to the NHL, we know that typically hockey fans are white, affluent/educated, and male. What's occurring to the league is their traditional fanbase is aging out (20 years ago it was nestled in the key 18-34 demographic, but no longer)–so younger white men aren't as attracted to the sport–and they've failed to attract anyone else (this issue isn't unique to the NHL as can be seen from the trends above even though other sports have much more diverse demographics). The only tangible effort the NHL has made to change that is expansion, which doesn't address the underlying problems.
How are the various sports cartels trying to increase profits given the circumstances? They are following the esports model of promoting gambling–ethical concerns aside, there's no better way to hook people (the lifeblood of the NFL and horse racing). The other is investing in reality TV content–videos about the players and their lives (how well this works is unclear to me). One of the major issues, I believe, is simply how long the games and seasons are, but there's no good way to significantly change that. Covid shutdowns and limitations simply exasperated the issue (Samba numbers show all leagues shrinking except the NFL in 2021), as all the leagues are losing out on younger fans who might otherwise be attracted to sport through participation or viewing. I'm not arguing the NHL or sport is going to collapse or disappear, just that the shrinkage is likely to continue locking leagues into particular niches.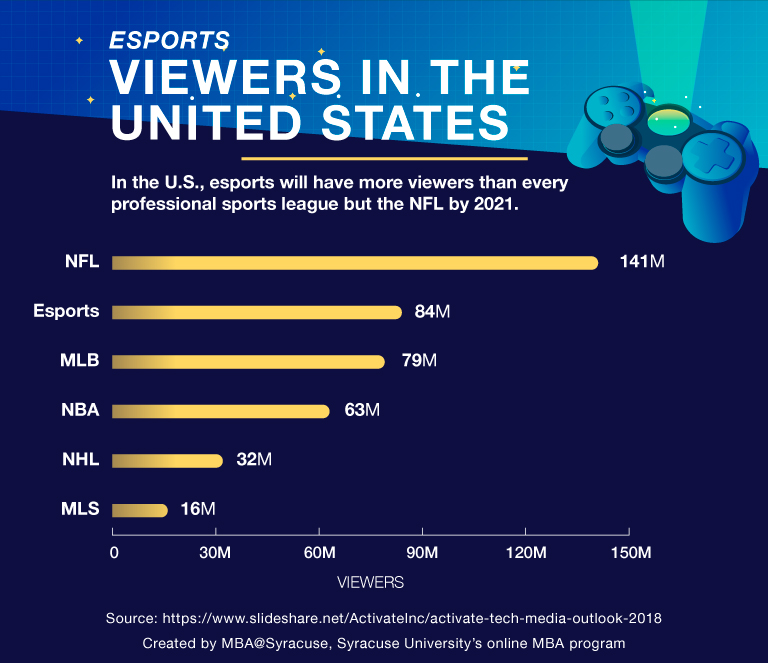 I want to emphasize the point about esports because I feel like in many ways it directly competes with traditional sports for fan time and attention. The chart above is from 2018, long before Covid, and already it was drawing more fans than any sport in the US other than the NFL. But we can dig deeper:
Looking at that you might say, hey, in 2019 conventional sport was still overall ahead, but let's look at more data:
Keep in mind that the US (and North America) is the smallest part of the eports market currently–Asia is first and then Europe–but the trend is obvious. The advantage video games have over sport is accessibility, both in terms of affordability and the fact that you can participate from home and watch from anywhere (esports stars also fit the 'everyman' category–something that feels more easily aspired too). Traditional sports lag far behind when it comes to making themselves accessible digitally. Old approaches of a paywall make little sense when esports events are free (they are also much more common and shorter–multiple seasons a year, allowing for greater drama than the one-and-done yearly festival of traditional sports). I don't know that there's a solution for sport given their dependence on both physical attendance in stadiums as well as long term deals signed with cable TV providers–that limits their options–so in the short term the pain is only going to continue.
Does any of this impact the average sports fan? No, but if you are concerned with the health of your sport, the alarm bells should be ringing, as there's little sign the aging trend is going to stop any time soon.
This article is written by Peter Levi