Pierre Dorion became the Sens GM in the 2016-17 season, but prior to that event he ran the drafts beginning in 2008 and I wanted to take a look at the older drafts which can be properly assessed to see what we can glean (those players in bold below played at least 200 NHL games). All of these drafts had Bryan Murray serving as the GM.
2008 (12 scouts; Sweden 3, WHL/BCHL 2, USHL 1, CJHL 1)
1-15 Erik Karlsson (D) Sweden-Frolunda 788-143-482-625 (San Jose)
Trade (2018): Chris Tierney, Rudolfs Balcers, Dylan DeMelo, Josh Norris, and the picks used for Tim Stuetzle and Zach Ostapchuk
2-42 Patrick Wiercioch (D) USHL-Omaha 268-16-58-74 (tier-2 Europe)
3-79 Zack Smith (C) WHL-Swift Current 662-98-106-204 (UFA)
Trade (2019): Artem Anisimov
4-109 Andre Petersson (F) Sweden-HV71 1-0-0-0 (successful KHL career)
4-119 Derek Grant (C) BCHL-Langley 310-37-48-85 (Anaheim)
5-139 Mark Borowiecki (D) CJHL-Smith Falls 397-15-37-52 (Nashville)
7-199 Emil Sandin (F) Sweden-Brynas DNP (tier-2 career in Sweden)
A very successful draft with five of seven players hitting the 200-game threshold. We can argue over the caliber of these players, as all save Karlsson merely provide depth, but Karlsson is a genuine star. Both of the misses in the draft were undersized skilled players from Sweden.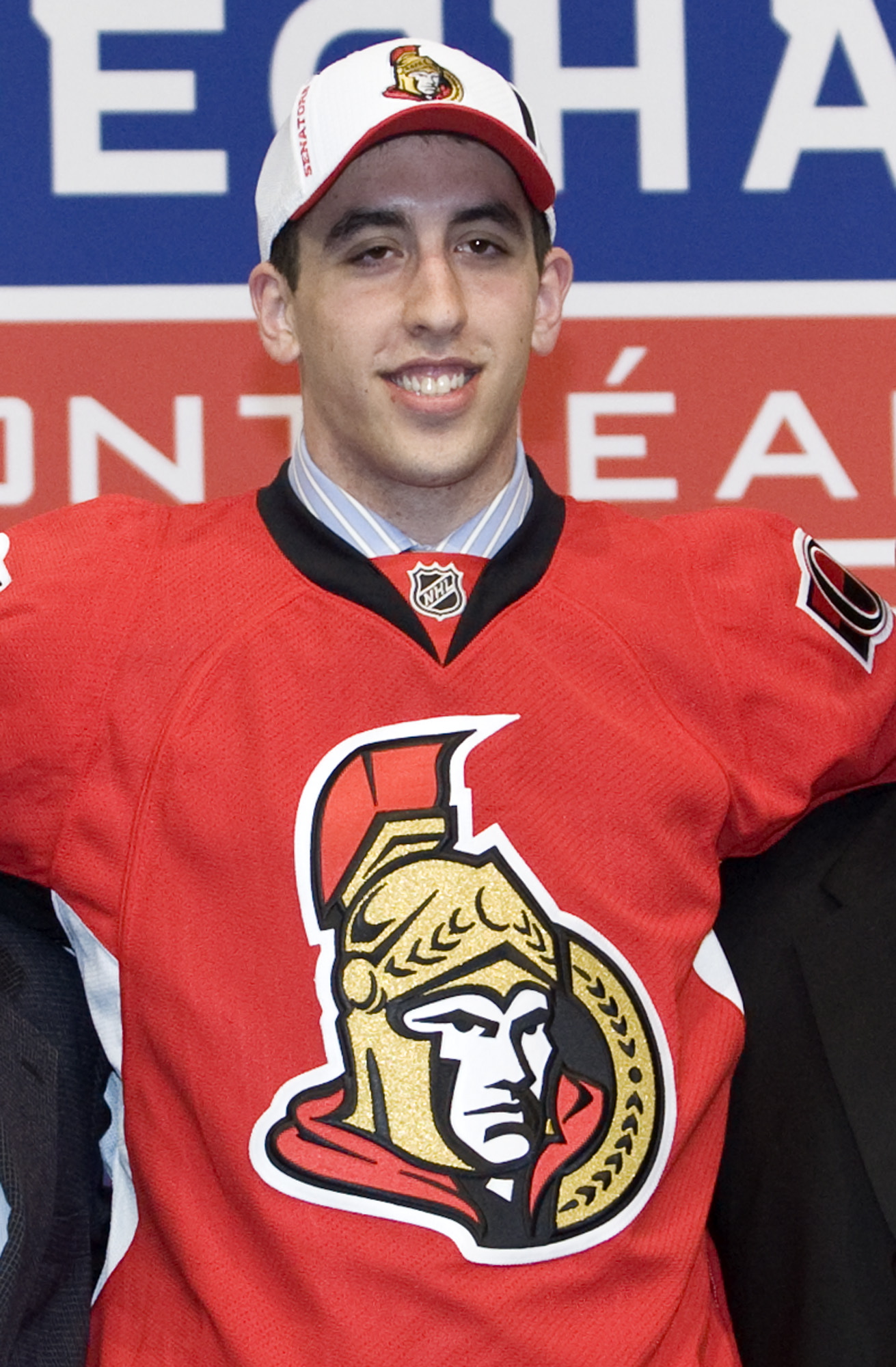 2009 (12 scouts; USHL/USHS 3, Sweden 2, WHL 1, QMJHL 1, OHL 1, NCAA 1)
1-9 Jared Cowen (D) WHL-Spokane 249-15-31-45 (retired due to injury)
Trade (2016): Dion Phaneuf, Cody Donaghey, Casey Bailey, Matt Frattin, and Ryan Rupert; Phaneuf was subsequently traded (2019) for Marian Gaborik and Nick Shore; Gaborik was then traded (2020) for Braydon Coburn, Cedric Paquette, and a 2nd-round pick in 2022; the 7th-round pick acquired for Shore was included in the Duclair trade
2-39 Jakob Silfverberg (F) Sweden-Brynas 605-146-161-307 (Anaheim)
Trade (2013): Bobby Ryan
2-46 Robin Lehner (G) Sweden-Frolunda .918 (Vegas)
Trade (2015): The pick that turned into Colin White
4-100 Chris Wideman (D) NCAA-Miami 181-16-29-45 (Montreal)
Trade (2018): Pick that turned into Cole Reinhardt
5-130 Mike Hoffman (C/W) QMJHL-Drummondville 545-189-206-395 (Montreal)
Trade (2018): Mikkel Boedker, Julius Bergman, and the pick that turned into Philippe Daoust; Bergman was included in the Abramov trade
5-146 Jeff Costello (F) USHL-Cedar Rapids DNP (retired after one ECHL season)
6-160 Corey Cowick (F) OHL-Ottawa DNP (short minor league career)
7-190 Brad Peltz (F) USHS-Avon DNP (retired after one ECHL season)
7-191 Michael Sdao (D) USHL-Lincoln DNP (ECHL career)
Another five players hit the threshold (I'm assuming Wideman will do that this season), so it's another good draft. We see the beginnings of a Dorion tendency to roll the dice on gritty players which doesn't work out in this sample–of the four players who never made it, three are in that category (Peltz is the exception). There's no question that Cowen was a poor top-ten pick and that the Sens received little value for the other quality draftees before they were moved. We continue a tendency for the org to give-up on goaltenders early (Brian Elliott was drafted in '03, but turned pro right when Dorion joined the org–I'm not saying that decision was his, simply that the impatience began during his tenure).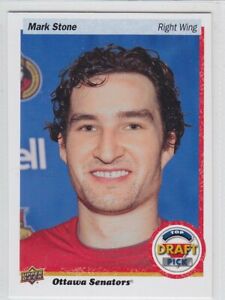 2010 (11 scouts; Sweden 1, QMJHL 1, WHL 1, USHL 1)
3-76 Jakub Culek (F) QMJHL-Rimouski DNP (brief minor league career)
4-106 Marcus Sorensen (F) Sweden-Djurgardens 226-31-33-64 (UFA)
6-178 Mark Stone (F) WHL-Brandon 504-170-276-446 (Vegas)
Trade (2019): Oscar Lindberg, Erik Brannstrom, and the pick that turned into Egor Sokolov
7-196 Bryce Aneloski (D) USHL-Cedar DNP (brief minor league career)
The success ratio remains good, although the org gave up on Sorensen early and it was San Jose who made use of him. Stone is the obvious 'win', although the org benefited from just four full seasons with him before discarding him as part of the rebuild.
2011 (11 scouts; OHL 3, Sweden 2, WHL 2, USHL 2, QMJHL 1)
1-6 Mika Zibanejad (C/W) Sweden-Djurgardens 604-200-234-434 (NYR)
Trade (2016): Derick Brassard and the pick that turned into Luke Loheit; Brassard was traded (2018) for Filip Gustavsson, Ian Cole, a pick flipped to draft Jacob Bernard-Docker and Jonathan Tychonick, and a pick flipped to draft Mads Sogaard
1-21 Stefan Noesen (C/W) OHL-Plymouth 205-31-23-54 (long minor league career)
Trade (2013): part of the Silfverberg/Ryan trade above
1-24 Matt Puempel (F) OHL-Peterborough 87-11-5-16 (long minor league career)
Waiver Claim (2016)
2-61 Shane Prince (C) OHL-Ottawa 128-12-26-38 (successful KHL career)
Trade (2016): for a pick that was flipped as part of a deal to draft Logan Brown
4-96 Jean-Gabriel Pageau (C) QMJHL-Gatineau 489-103-109-212 (NYI)
Trade (2020): pick used to draft Ridly Greig and another used in a trade that saw them draft Tyler Kleven
5-126 Fredrik Claesson (D) Sweden-Djurgardens 161-7-21-28 (lengthy minor league career)
6-156 Darren Kramer (F) WHL-Spokane DNP (long minor league career)
6-171 Max McCormick (F) USHL-Sioux City 83-8-5-13 (long minor league career)
Trade (2019): J. C. Beaudin
7-186 Jordan Fransoo (D) WHL-Brandon DNP (played Canadian university hockey)
7-204 Ryan Dzingel (F) USHL-Lincoln 372-82-98-180 (Arizona)
Trade (2019): Anthony Duclair, a second that was part of the Matt Murray deal, and another second used to acquire Derek Stepan; the org re-acquired him in 2021 for Alex Galchenyuk and Cedric Paquette
This draft was meant to be the start of a re-build and the org batted well above average in having four players hit the 200-game threshold, but it's undeniable that they wasted Zibanejad as an asset and received a poor direct return; they also bombed out on their other two first-round picks.
2012 (12 scouts; OHL 2, USHL/USHS 2, WHL 1, QMJHL 1, Sweden 1)
1-15 Cody Ceci (D) OHL-Ottawa 549-37-106-143 (Edmonton)
Trade (2019): Nikita Zaitsev, Connor Brown, and Michael Carcone
3-76 Chris Driedger (G) WHL-Calgary .929 (Sea)
3-82 Jarrod Maidens (F) OHL-Owen Sound (retired due to injury)
4-106 Timothy Boyle (D) USHS-Prep DNP (short minor league career)
5-136 Robbie Baillargeon (F) USHL-Indiana DNP (brief minor league career)
6-166 Francois Brassard (G) QMJHL-Quebec DNP (Canadian university to minor leagues)
7-196 Mikael Wikstrand (D) Sweden-Mora (refused to play)
While Driedger may eventually hit the threshold, this was an abysmal draft as Ceci was highly overvalued (as witnessed by the poor return when traded). Unlike in prior years, there was an attempt to target skill in the later rounds, but nothing worked out (although one could argue that Wikstand might have been an NHL player–we'll simply never know).
2013 (12 scouts; Sweden 2, WHL 1, OHL 1, QMJHL 1, EJHL 1, NCAA 1)
1-17 Curtis Lazar (C) WHL-Edmonton 334-27-47-74 (Boston)
Trade (2017): Jyrki Jokipaaka and the pick used for Alex Formenton
3-78 Marcus Hogberg (G) Sweden-Linkoping .894 (back in Sweden)
4-102 Tobias Lindberg (F) Sweden-Djurgardens 6-0-2-2 (tier-2 Sweden)
Trade: part of the Cowen/Phaneuf trade above, then reacquired him in a minor league deal in 2018, then included in the Stone trade above
4-108 Ben Harpur (D) OHL-Guelph 137-1-13-14 (UFA)
Trade (2019): part of the Ceci trade above
5-138 Vincent Dunn (F) QMJHL-Rimouski DNP (short minor league career)
6-161 Chris LeBlanc (F) EJHL-South Shore DNP (minor league career)
7-168 Quentin Shore (F) NCAA-Denver DNP (short minor league career)
An equally horrendous draft, as Lazar is an even bigger miss than Ceci (someone who struggled at the AHL-level, but whose pedigree has allowed him to fumble around the NHL for years). The rest of the assets were a mix of grinders and skilled players, none of whom panned out.
2014 (13 scouts; USHL/USHS 2, Sweden 1, QMJHL 1, CCHL 1)
2-40 Andreas England (D) Sweden-Djurgardens 33-0-3-3 (minor leaguer)
3-70 Miles Gendron (D) USHS-Prep DNP (minor leaguer)
4-100 Shane Eiserman (F) USHL-Dubuque DNP (brief minor league career)
7-189 Kelly Summers (D) CCHL-Carleton DNP (tier-2 Germany)
7-190 Francis Perron (C) QMJHL-Rouyn-Noranda DNP (tier-2 Sweden)
The worst draft in the sample size. It's very rare for an NHL team to have no successes, but Ottawa managed it here. The picks were a mix of grinders and skill, but none are even quality AHL players. You'd expect consequences in the scouting ranks after such a result (not just for this, but the prior two drafts), but that's not the case.
2015 (13 scouts; QMJHL 3, USHL/USHS/USNTDP 3, Sweden 2)
1-18 Thomas Chabot (D) QMJHL-Saint John 254-35-115-150
1-21 Colin White (C/W) USNTDP 200-33-55-88
2-36 Gabriel Gagne (F) QMJHL-Victoriaville DNP (minor leaguer)
2-48 Filip Chlapik (C/W) QMJHL-Charlottetown 57-5-6-11 (released)
4-107 Christian Wolanin (D) USHL-Muskegon 61-5-13-18 (LA)
Trade (2021): Michael Amadio
4-109 Filip Ahl (F) Sweden-HV71 DNP (tier-2 Europe)
5-139 Christian Jaros (D) Sweden-Lulea 83-1-13-14 (NJ)
Trade (2021): Jack Kopacka and a 7th-round pick in 2022
7-199 Joey Daccord (G) USHS-Prep .894 (Seattle)
Taken in the Expansion Draft
The analysis of this draft is still still up in the air, although there are two obvious successes. Wolanin, Jaros, and Daccord could potentially hit the threshold, although it's unlikely all of them will. The mix of players echoes the previous two years, but the quality of the picks are better (despite a big miss on Gagne). We again see the common trend of the org not getting value back for prospects–none of the assets remain for trading the two blueliners, which means they were simply given away.
Let's summarize excluding 2015's results (since they are still in flux). Here are the hits to misses from 2008-14:
2008: 5-7 (74%)
2009: 5-9 (55%)
2010: 2-4 (50%)
2011: 4-10 (40%)
2012: 1-7 (14%)
2013: 1-7 (14%)
2014: 0-4 (0%
That's a linear decline under Dorion to that point. We know 2015 was a better draft and there is an organization change between 2014-15: Tim Murray's departure to Buffalo. Can we put this all at Tim's feet? I think that's too simplistic, but it is worth noting. Let's take a look at success by region (highlighting the significant players):
US systems (3-14/21%): Wiercioch, Wideman, Dzingel
Sweden (5-12/41%): Karlsson, Silfverberg, Lehner, Sorensen, Zibanejad
WHL/BCHL 8 (5-8/62%): Smith, Grant, Cowen, Stone, Lazar
OHL/CCHL/CJHL (4-9/44%): Borowiecki, Noesen, Prince, Ceci
QMJHL (2-6/33%): Hoffman, Pageau
What's fascinating is how heavily Ottawa invested in the American junior system despite no serious payoff. The org scored very highly in Sweden while completely ignoring the rest of Europe (no one drafted from any other European league). If you're wondering, in terms of raw selection, here's what's happened from 2015-21 (the numbers represent the number of players from that system per draft):
US systems: 13 (2.0 > 2.1)
WHL/AJHL: 11 (1.1 > 1.8)
QMJHL: 9 (0.8 > 1.5)
Sweden: 6 (1.7 > 1.0)
OHL: 4 (1.3 > 0.6)
Finland: 3 (0 > 0.5)
Germany: 1 (0 > 0.1)
The American fetish continues unabated, while the primary change is a decrease in Swedish/OHL prospects matched by an increase in QMJHL and WHL contributions. I think the scattering of Finnish prospects is related to Mikko Ruutu becoming the director of European scouting (Stuetzle, as a top-five pick, is irrelevant in terms of the org's normal scouting preferences). It remains an oddity that despite being in Ontario the team has only dipped its toe into the local pond over the last 13 drafts. It's also strange how consistently the Sens devalue European scouting–on average they have only two scouts based in Europe, which is a deplorable amount to cover the various leagues (meaning they have to lean heavily on tournament performances, which is a questionable guide). I get the feeling that the main reason for ignoring Europe is cost.
Another way to look at success is by round and we get some interesting results:
First round (6-7): 2 of their best 6 picks are from this group (Karlsson and Zibanejad)
Second round (4-5): 2 of their best are from here (Silfverberg and Lehner)
Third round (1-6): extremely poor success rate with none of the best appearing
Fourth round (4-9): better averages (although that success is early) with Pageau being the standout
Fifth round (2-6): Hoffman is the standout (so again, early)
Sixth round (1-6): you expect things to be more difficult later; Stone is the standout
Seventh round (1-9): swinging for the fences is understandable
We have to take the results for first-rounders with grains of salt, since there's pressure to play those players before giving up on them–I think this is illustrated by the number of best picks being even with the second-rounders. In theory the success ratios should be an inverted pyramid (reflecting the quality and consistency of the scouting group), but that's not the case. It's also worth keeping in mind that this period see's the beginning of a rebuild (2011) that was rushed by a cash-strapped owner (sounds familiar, doesn't it?). Pressure by ownership forces trades for success now and clearly that's part of the problem with asset retention (along with being a smaller market). That should not, however, impact the quality of picks.
Finally, let's ride one of my favourite hobby horses: relative success between skilled and truculent players (we have to exclude goaltenders from this discussion, along with Maidens, as injury prevented him from performing):
Skilled (11-24, 45%) – This number includes all the best players
Truculent/defensive (6-19, 31%) – Features the team's biggest busts/disappointments (Cowen, Ceci, Lazar)
My argument for skill has always been the same: it's rare and thus much harder to acquire–prohibitively expensive for Ottawa most of the time. The NHL is full of grinders and defensive players, so drafting for that is a waste of time. Clearly the team does not share my opinion.
I'm not sure there's a clear conclusion to draw here. It's interesting that Tim Murray arrived with Pierre Dorion and success at the draft declined until Murray's departure. I hesitate to say that's the only reason for the change, although going through the many scouts who have appeared throughout this time period provides no meaningful insight. I wish there was better evidence for the drafts from 2015 onward, but it's quite simply too early to judge (for instance, 2016 might turn out to be a complete bust, or Logan Brown could turn a corner and it's suddenly not as terrible). Regardless, food for thought and opinions are welcome.
This article is written by Peter Levi (@eyeonthesens)