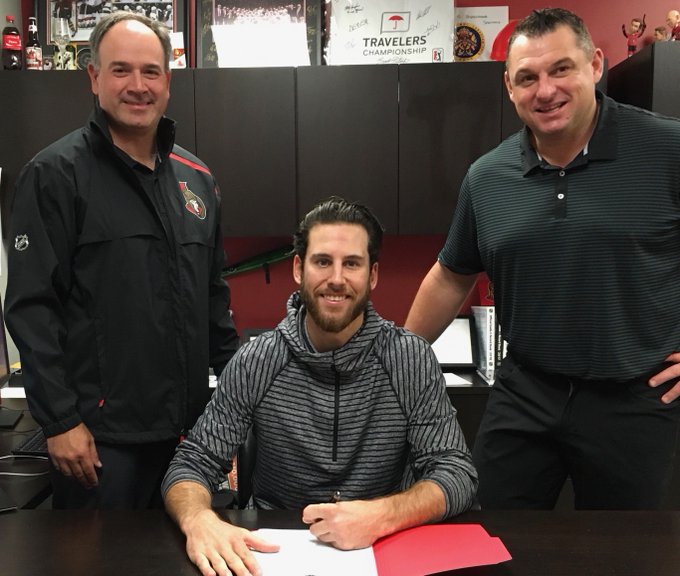 I can't remember the last time I did a player profile, but apparently no one else has one on the guy (with apologies to Colin Cudmore)–at minimum Chirp is excited about him (someone has to be, right?).
Scott Sabourin (DOB 92, RW, 6'3, FA LA 13)
2016-17 AHL 54-8-7-15 0.27 13th in scoring 9 fights
2017-18 AHL 44-4-3-7 0.16 25th in scoring 6 fights
2018-19 AHL 43-4-4-8 0.18 19th in scoring 7 fights
Another local boy who was such a beast of a prospect that there are no scouting reports on him (2010 was his year, btb, which meant digging through physical archives). He made his way from tier-2 locally to Oshawa in the OHL (where he played for D. J. Smith), then on to the AHL as a fighter (you can see his fights here). Dean Lombardi (LAK) signed him to an ELC in 2013 and after he bombed out there he was involved in a three-way trade that included Ottawa (the Sens acquired Finnish flameout Michael Keranen), getting dumped on Minnesota (2016). Anaheim (Bob Murray) signed him the following season (along with pugilist Mike Liambas), where coach Dallas Eakins used him as a part-time forward. When he was dropped from that org he then turned a PTO with Stockton into a contract, but coach Cail MacLean also kept him on a short leash, restricting him to about half a season.
What can we take away from his numbers and his history? His competitiveness is such that he can walk into multiple training camps and earn himself a job–that speaks to his hustle and enthusiasm. After getting signed, Sabourin drops down the lineup, plays irregularly and when he does play can only provide (AHL) fourth-line output. He can fight, but that's not very important even at the AHL-level anymore (the fight leaders didn't crack double digits last season and no one has had more than eleven since 2015-16). So he can fight, but can't score–is he good defensively? The answer has to be no, because if he was a useful PKer he'd play more (current BSen Joseph LaBate is a good comparison there). His only full season in the AHL was his rookie year (also his most productive)–since then he's been a frequent scratch and used purely as an energy player.
Is this a bad signing? Abstractly, yes–I don't think that's debatable–but is it for Ottawa? If you want to fail this season, and the Sens certainly do, then no. They should want Sabourin playing key minutes. What I don't want to see is this guy in Belleville. The BSens have more than enough low-talent FA's on the roster that the last thing they need is another one, especially a guy who is 27 and already peaked.
This article is written by Peter Levi (@eyeonthesens)