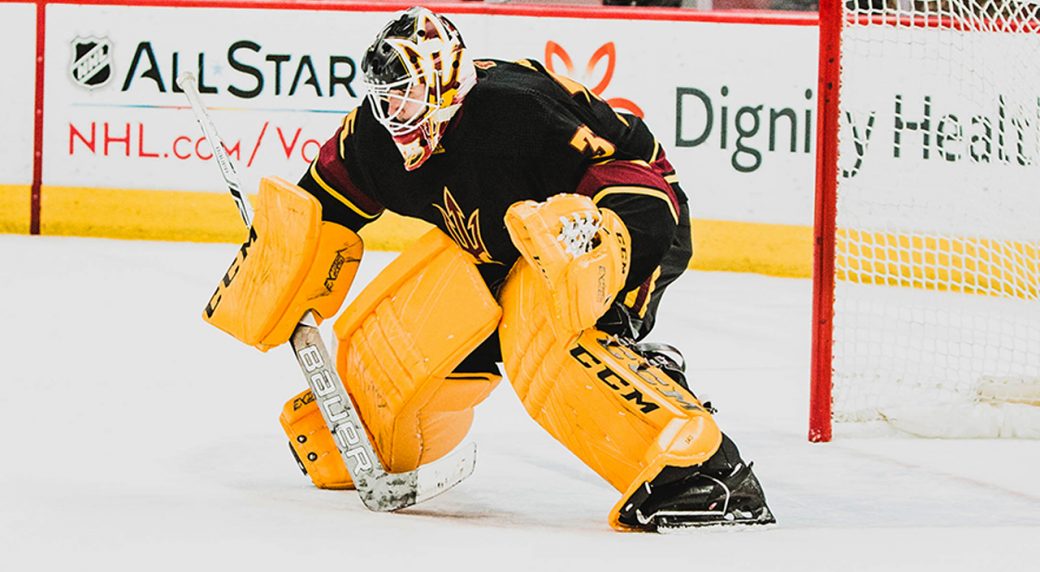 Since signing Max Veronneau the Sens have added two more players–one expected, the other a surprise. We'll start with the former.
Joey Daccord (G, DOB 96)
2016-17 .892
2017-18 .909
2018-19 .926
The Arizona State 'tender spent his first couple of seasons getting his head kicked in with an awful team in front of him, but everything turned around this year. He wasn't ranked by anyone other than Central Scouting when drafted, but his father is a well-known goalie coach who played in Europe and the org loves bloodlines (as well as Joey's smarts and hands). So why sign him? After Marcus Hogberg's strong sophomore season (and Filip Gustavsson's rookie struggles), there's room in Belleville for another prospect. I expect Daccord to push the young Swede for playing time and, if necessary, mind the net in Brampton.
Johnny Gruden (LW, DOB 00)
2017-18 25-15-19-34
2018-19 38-3-12-15
He was picked slightly after projections, but digging into the scouting material there were a lot of red flags for me. I have no idea what the urgency in signing him now was, as his numbers in the NCAA are unremarkable. I hope Colin's idea that this is a way for him to jump to the OHL is right, rather than seeing him getting his head kicked in as a pro.
Prospects in the System
This only lists players who have not played a season in the NHL/AHL (those in green are signed; scoring rank is via points-per-game, with defensemen compared to defensemen); they are listed by draft date/FA sign date.

Miles Gendron DL (3-70/14) NCAA 30-3-4-7 (0.23; 2nd) signed AHL-deal
Filip Ahl W (4-109/15) Allsvenskan 42-11-9-20 (0.47; 5th)
Joey Daccord G (7-199/15) NCAA .926 2.35 signed ELC
Todd Burgess C/RW (4-103/16) NCAA 36-7-9-16 (0.44; 6th)
Markus Nurmi W (6-163/16) Liiga 60-1-11-12 (0.20; 23rd)
Alex Formenton LW (2-47/17) OHL 31-13-21-34 (1.09; t-4th) signed ELC
Jordan Hollett G (6-183/17) WHL .895 3.50
Parker Kelly C/RW (FA 17) WHL 64-35-32-67 (1.04; 5th) signed ELC
Jacob Bernard-Docker DR (1-26/18) NCAA 36-5-12-17 (0.47; 2nd)
Jonny Tychonick DL (2-48/18) NCAA 28-0-4-4 (0.14; 6th)
Johnny Gruden LW (4-95/18) NCAA 38-3-12-15 (0.39; 7th) signed ELC
Angus Crookshank LW (5-126/18) NCAA 36-10-13-23 (0.64; 5th)
Kevin Mandolese G (6-157/18) QMJHL .895 2.87
Jakov Novak C/LW (7-188/18) NCAA 37-7-8-15 (0.40; 8th)
Luke Loheit RW (7-194/18) BCHL 43-8-16-24 (0.55; 9th)
Josh Norris C (T-SJ 1-19/17) NCAA 17-10-9-19 (1.11; 1st)
Jonathan Davidsson RW (T-CLB 6-170/17) SHL 37-10-11-21 (0.57; 6th) ELC via CLB
Max Veronneau RW (FA 19) NCAA 31-13-24-37 (1.19; 2nd) signed ELC
The Clock is Ticking
Filip Ahl is the last man standing from the 2015 draft, but after yet another disappointing season in the Allsvenskan I expect the power forward to be let go
Jordan Hollett the WHL 'tender has flatlined, unable to reach the middling numbers of his draft year–he too will be let go
One of the least surprising things in the off-season has been the org's stated desire to bring back perennial dud Cody Ceci–the guy they could have traded straight up for Taylor Hall (something which continues to boggle the mind). I want to go through Chris Stevenson's article (link with a paywall) just to point out how silly the defense of him is which Stevenson offers:
1. He eats up tough minutes
All this requires is the coach to say "get out there champ," meaning you, me, or your grandfather could also skate around during those tough minutes. That aside, what the org means is they feel like he's effective playing these minutes, but we know from analytics that he's not
2. An unnamed director of player personnel said he's a 4-6 "with a good partner"
If I were Stevenson, I'd want to know what they thought he was with an average partner–Tom Preissing looked good when protected by a good partner, so that qualifying tag isn't saying Ceci is good even as a bottom-end blueliner without assistance
3. He's never had gifted partners
I think this reflects Stevenson's lack of comfort with analytics, because Ceci's horrendous reputation takes into account the performance of his partners–this isn't a deliberate obfuscation on Stevenson's part, it's simply ignorance (not in the pejorative sense, I mean he literally doesn't know)
4. He needs to be re-signed to meet the cap floor
Actually, the team could sign a good player to meet the floor, so retaining Ceci is irrelevant in this respect
None of these are actually arguments that show Ceci is a good player. The org says he is, but just saying something doesn't make it so. I'm not picking on Stevenson here–most reporters his age (and older) aren't comfortable with analytics and lean on opinions from NHL people and the various cliches about hockey they grew up with, but that doesn't excuse the laughable reasoning he includes here.
I don't typically write about the odds, but I know people get excited about them (The Hockey News etc do this sort of thing before every season). SBD gives the Sens 33% chance of climbing out of the bottom five of the NHL next season (which seems oddly generous to me, barring further roster changes and without knowing who the next head coach is).
This article is written by Peter Levi (@eyeonthesens)