One thing that's been clear about the org since Trent Mann was promoted in 2017 is, above and beyond seeking certainty over potential, looking for character and truculence. We can (and I do) make fun of the latter–something I associate with Brian Burke and an approach that failed him after its solitary success with Anaheim in 2007 (a team largely built by his predecessors, Al Coates and Bryan Murray). Putting aside its efficacy, what I do think drafting and trading for players like this does is appeal to the fanbase–not casual fans (who are interested in wins and scoring)–but the hardcore. In a strong hockey market, focusing on these fans is a bit like MMO's targeting whales–the big spenders, the people who commit. To that end, I think it's a good economic strategy. The concern that remains is production–they can agitate, they can hit, but can they score? It remains an open question.
When you go against the grain there's always resistance. I've briefly discussed the high opinion (shared by the org) of Jake Sanderson and I think my comments have been misunderstood by some. I compared him to players like Lassi Thomson and Jacob Bernard-Docker, not because I think they are literally the same kind of player, but in reference to the potential they were given by scouts when drafted (there's rarely universal agreement and you can see the opposite opinion here, but I mean the consensus of what I've seen). All three prospects had worries about their offensive upside and were slotted as top-four blueliners–that's all I meant by the comparison. This isn't my opinion of the player (I've haven't seen any of them play), but a reflection of worries held by scouts–that doesn't make them right, it's simply food for thought. Does Sanderson have more potential than the other two? I would hope so, because he was picked far higher in the draft (meaning his talent is considered better), but that wasn't the point. I'd like nothing better than the guy to be a hall of fame defenseman for Ottawa, but the org habitually over praises their prospects (Jared Cowen comes to mind–someone we now know was riding the coattails of Jared Spurgeon), so I take a wait-and-see approach.
While it's clear the Sens want to move Logan Brown (something that may prove impossible), more and more I wonder if the same fate awaits Erik Brannstrom. There's no chance at that they want Brannstrom and Mete in the lineup at the same time, so either the former is intended for the BSens or will get traded (perhaps in an effort to fill one of Pierre McGuire's 7-man formula).
Speaking of the BSens, one of the fascinating things about the upcoming season is how much the team's success will depend on their record against just four teams. While almost 70% of their season is played within their division, most of that will be taken up by Laval and Toronto (each 12 games), and Syracuse and Rochester (8 games each). That's 40 of 72 games (55%). When it comes time to preview the BSens, I'll take a look at what's expected for those teams as well.
Scoring in the NHL has started to increase the last four years [based, it seems, on coaching more than anything else], which is an obvious good thing after remaining stagnant for seven (an unprecedented length of time in the NHL to lack variation). This small change comes long after other major leagues took steps to ensure their own games became more entertaining. With that said, it remains below where it needs to be, still lagging behind all historical eras save the primordial pre-Original Six (specifically 23-24 to 40-41). The ten highest scoring games in NHL history are within a twenty-year period (1977-1996), with nine of the ten in the first half of that; the most points recorded in a season stretch from the 70-71 to 95-96, again clustering from the late 70s into the early 90s. This isn't to say the NHL needs to consistently hit the highs of that era, but a league where major records can't be challenged has no chance of breaking through the static of the other high profile sports they compete with (outside the homerun chases in the 90s, the MLB has been sliding towards oblivion for decades, cf). Where is the sweet spot for hockey? It's hard to say, but let's look at the numbers:
Original Six (42-43 to 66-67) 2.93
Expansion (68-69 to 78-79) 2.96 (+0.03)
1980s to Pre-Lockout (79-80 to 93-94) 3.71 (+0.75)
Dead Puck Era (94-95 to 03-04) 2.76 (-0.95)
Post Lockout Era (05-06 to present) 2.85 (+0.09)
The first era was long enough that it has its own internal structure, with higher scoring both at the beginning and end, with a ten-year long Dead Puck Era of its own (from 48-49 to 57-58). The actual high point is 1981-82 (not for the league however, as 43-44 holds that record for the eras we're sampling). The most popular time for hockey was during the 70s and 80s and, despite continual expansion, the NHLs unwillingness to open the game up has lead to it sinking back down into a regional phenomena heavily impacted by winning. With only 50% of teams playoff bound (unlike the 66% in the Original Six or 76% of the 1980s), soft fanbases quickly checkout when their team is going nowhere–there are just so many other options for their entertainment dollars. I'm happy that the NHL is finally trending in the right direction, but entropy is a powerful force and I feel like a renewed slide towards low scoring affairs could be just around the corner.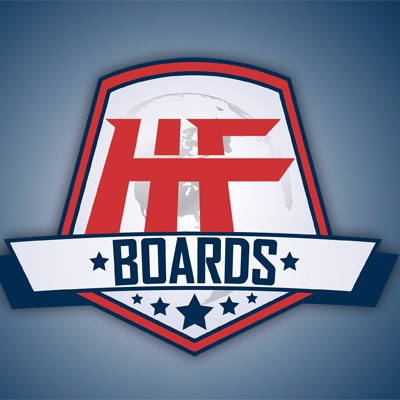 I'm surprised HFBoards is still around. A website from an Internet era of two decades earlier, many of the same people post on it and I suppose that fits the older demographic associated with sports. The boards are something that made an impact on me back when I started writing about hockey (for The Hockey Herald in 2007), although I rarely visited the site once I started writing here.
Another Atlanta signing, as goaltender Chris Nell has been signed. The 27-year old NCAA grad failed out of the Rangers organization as an FA-signing and has put up poor numbers in the ECHL.
This article is written by Peter Levi (@eyeonthesens)
2 Comments