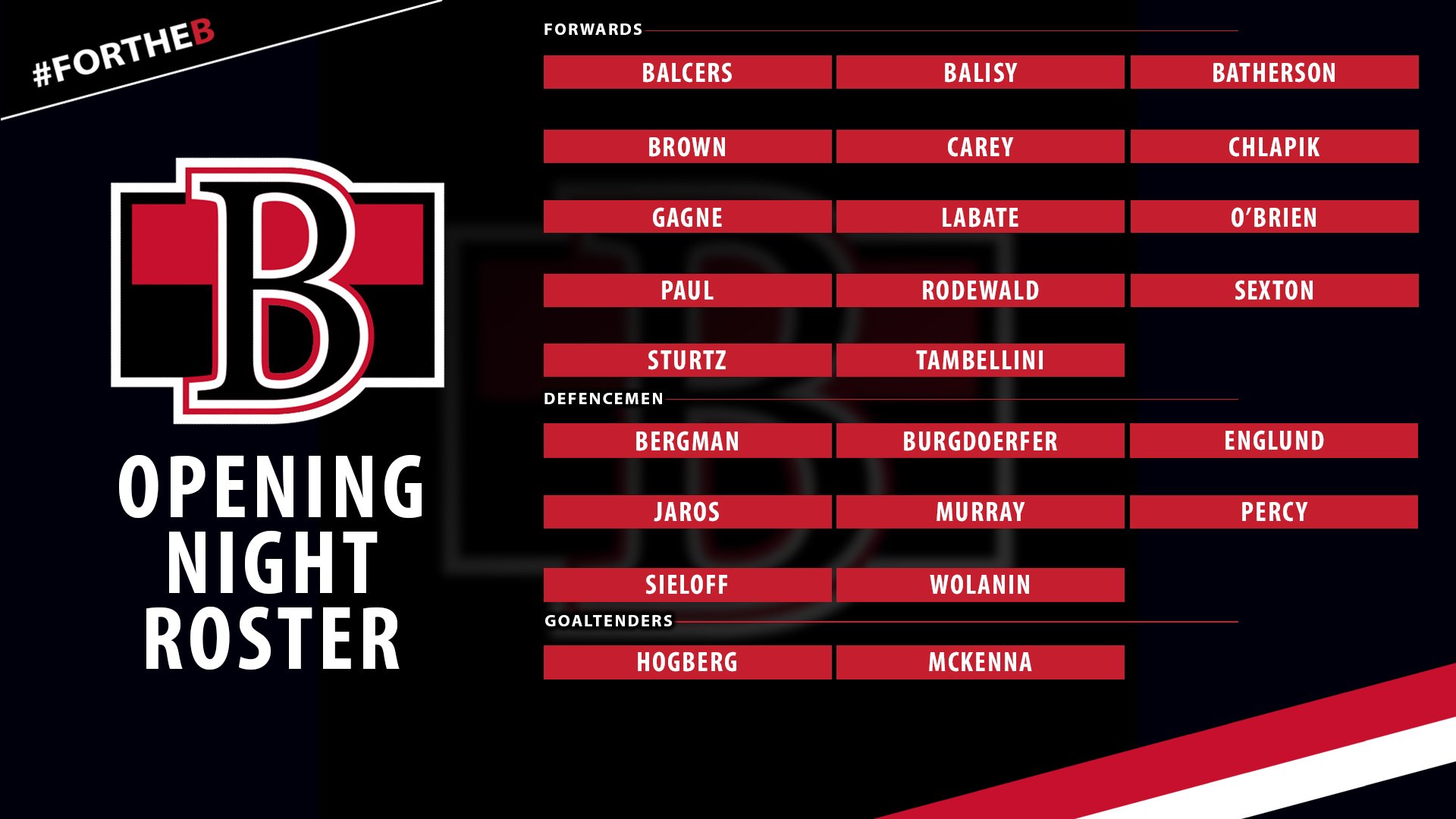 I think Chris Stevenson accidentally let slip what was meant to be announced today–that Filip Gustavsson was sent to the ECHL–despite claiming it was a guess when asked about it. He'd also left out Ryan Scarfo who was also officially sent to Brampton today, so I think CJ was aware of the final BSens roster and accidentally put that out before it was official. That aside, I think we can explore what the BSens lines will look like now that Christian Jaros has been sent down (with Max Lajoie staying in the NHL for now). A couple of notes first:
Jim O'Brien, Kurt Kleinendorst's #1 center from last year, was hurt in the pre-season and may miss the entire season (if not, certainly a significant part of it)
Excluding O'Brien, the BSens have 13 forwards, 8 defensemen, and 2 goaltenders available on their roster; I think it's unlikely they will keep two extra defensemen in Belleville for long such that one of Jordan Murray (AHL-deal) or Andreas Englund (performance) will be sent down to Brampton
Lineup
The pre-season lines don't, I think, mean much. Chris Stevenson has already offered his own ideas and I'm sure we'll see more sooner than later. Acronyms below: green for rookies, blue for ELC's who aren't rookies, and bold for those with veteran status.
Forwards (13)
Centers (5): Carey (L), Chlapik (L), Brown (L), Paul (L), Balisy (L)
Rightwing (5): Sexton, Batherson, Gagne, Sturtz, Rodewald
Leftwing (3): Balcers, Tambellini, LaBate
Paul has spent most of his AHL-career as a center, but he was playing wing in pre-season and were it not for the injury to O'Brien I think that's probably where he starts. Carey is also someone I believe will start on the left side. Gagne, who is a leftie, can play that side, but it's not his preference. Here's my guess for the lines when the season opens:
Carey–Chlapik-Sexton
Balcers–Brown–Batherson
Tambellini-Paul-Gagne
LaBate-Balisy–Sturtz
Extras: Rodewald
While this would make for a very young second-line (something traditionally the BSens coaches have avoided), I think the talent is good enough to bypass the usual conservatism. Putting Sturtz on the fourth-line doesn't make much sense, but it's difficult to rationalize him anywhere else at the moment. These lines provide good offensive balance, if a bit soft on the fourth line. The pieces of the top two lines could be moved around, but I think that's how the top-six starts (the names are identical to those in CJ's lineup, but the arrangement is different). It also means none of the new signings are benched and the top-prospects are playing.
Defense (8)
Lefties: Englund, Percy, Sieloff, Wolanin, Murray (AHL-contract)
Righties: Jaros, Bergman, Burgdoerfer
Lefthand shots get pushed to the right side all the time, but at least for the moment there's no need for that kind of adjustment. One of the reasons Lajoie is in the NHL is there's no room for him in the AHL right now–the lineup is overcrowded.
Percy–Jaros
Wolanin-Burgdoerfer
Sieloff-Bergman
Extras: Englund, Murray
I don't like Burgdoerfer playing that high in the lineup (or at all, really), but Mann has expressed a fondness for him and the org likes him (CJ's lineup, which has him on the first pairing, is presumably related to discussions with the org and Mann, but I'm still hoping sense will prevail). I'd love to see a Jaros-Wolanin, but I suspect Mann would fear their defensive effectiveness and we'll only see that on the powerplay.
Goaltenders (2)
Everything we'd heard leading up to this season was that Gustavsson would be given a chance to prove himself in Belleville, but with McKenna signed to play it was assumed that Hogberg would go down to Brampton to start. Instead, the org did the smart thing to let the rookie eat up starts in the ECHL initially (we can argue over whether an aging McKenna was really needed–I'd say no–but because he's there he can't be ignored).
Depth in Brampton
Forwards: Luchuk (ELC), Leier (AHL-deal), Scarfo (AHL-deal), Beauchemin (AHL-deal)
Defense: Erkamps (ELC)
Goaltender: Gustavsson (ELC), Paterson (AHL-deal)
Last season the team ran into manpower problems due to injuries and callups and they've overcompensated this time around with a pile of AHL-contracts. Luchuk, with a shiny ELC to his name, is not supposed to be in ECHL (conversely Erkamps, who is in the final year of his ELC, is someone the org just wants to be rid of). We'll see Luchuk in Belleville eventually I believe, and I think Leier will be returned when the opportunity arises (the latter due to performance, the former due to his contract if nothing else). Gustavsson may not be in Brampton for long (depending both on his play and Hogberg's). The other players are just there in case of emergencies.
This article is written by Peter Levi (@eyeonthesens)
1 Comment