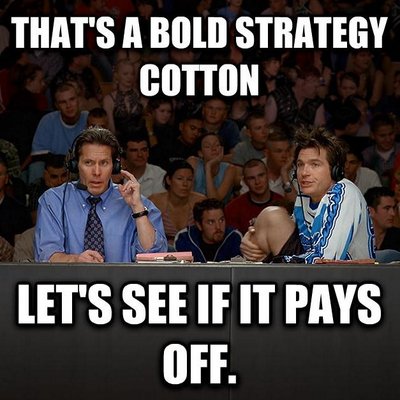 The Sens initial dip into the free agency pool echoed their usual tendencies. They went back to the well with an familiar face, signing 35-year old goaltender Mike McKenna. They followed that up with a more impactful signing–one with another org connection as they picked up former Troy Mann player Paul Carey. The latter move I'm okay with–it could be a good one–but I'm concerned about the former.
Mike McKenna, GR, DOB 1983
2015-16 Portland .921 2.45
2016-17 Springfield/Syracuse .905 2.84
2017-18 Texas .909 2.64
The trend in his numbers is clear–he's in decline–but a strong playoff run and org familiarity (he was with the Binghamton Senators in 2011-12) were enough for the Sens to sign the veteran. The worry, besides simply having three goaltenders on the roster, is that his save percentage (27th in the league this season and 33rd the year before) is not going to magically improve. The glass half full opinion would say he's insurance for Filip Gustavsson/Marcus Hogberg without obviously needing the starter mantel. My issue with this idea is he's not an elite goaltender so he represents mediocrity at best while taking development time away from one of the Swedes. If the BSens were going to be a top-AHL team I think you could make the argument about riding a veteran 'tender for playoff success, but that's not the case and with two talented prospects I'm not a fan of the three-headed monster in goal. How Troy Mann uses him will be interesting to watch, but if we were in the Kleinendorst era it would be McKenna-McKenna-McKenna all season.
Paul Carey, CL, DOB 1988
2015-16 Hershey 44-13-18-31 (0.70)
2016-17 Hershey 55-24-31-55 (1.00)
2017-18 NYR 60-7-7-14 (0.23)
Undrafted NCAA grad earned an NHL shot with the Rangers this past season which didn't pan out for the 29-year old; that said, his AHL-numbers are solid (career 0.63) and adding a scoring veteran to a roster that's struggled to score in four of the last five seasons is a good thing. A big plus for me is he's not an agitator/goon (ala Tyler Randell/Eric Selleck/Zack Stortini etc) or a "good in the corners guy" (ala Mike Blunden), so he can genuinely play the game and (hopefully) produce. Troy Mann clearly trusts him so I'd expect him to get top minutes.
Eligible Players Not at Development Camp
I thought I'd briefly go over the five players who could have attended camp and did not:
Thomas Chabot – presumably the org told him he needn't attend (a tendency for high-end, graduated prospects)
Francis Perron – presumably still recovering from injury (he last played January 27th)
Andreas Englund – could be injury-related, although he did play in Belleville's final game
Macoy Erkamps – as above, although I'm sure the org wants to divest themselves of him at this stage
Filip Ahl – I assume he's absent due to health reasons
Thoughts on the Development Camp Scrimmage
I don't put much stock in development camp performances (I can vividly remember Eric Gryba skating through guys back in the day), but I thought I'd go over the scrimmage from a few days ago (which you can watch here; team white winning 6-3)–it was much more entertaining than last year's. Incidentally, when the Sens began having a 5-on-5 scrimmage in camp they initially held it the first full day, which never made sense to me, so I'm glad this was further into it. It's of note that the play-by-play guys (Steve Lloyd and A. J. Jakubec) spent air-time defending the Brady Tkachuk pick from fan-criticisms–something that would not have been the case even six-seven years ago.
First Period
-Chalpik's zone entries remain the same–the wide swing around the boards going from one side to the other looking to dish the puck off at the half boards (very effective if his linemates know what he's doing)
-Wolanin with a lazy turnover
-D'Astous threw a hit on Tralmaks and just bounced off
-Loheit goes for the knee on Lyle
1. (White) Jaros breaks up a pass, but three players converge on Burgess who makes a great pass to a wide open Crookshank who scores stick-side on Gustavsson
-Hogberg makes a nice save on White
-Formenton just misses receiving a nice pass through traffic from Chlapik for a breakaway
-Burzan wins a battle against Leier which leads to a scoring chance by Lynch (erased by a stick-check from Kuffner)
-White with a nice pass to Loheit who deflects it wide
-Jaros fires a bullet wide in the slot
-Kaldis takes away a scoring chance
2. (Red) Lyle deflects in Burzan's pass
-Lillibridge flubs an open chance on the PP
3. (White) Great pass by Chlapik to Nurmi who puts it off the post and in on the PP
-Gustavsson with a great stop off Wolanin in the slot
4. (White) Batherson turns it over and Tralmaks beats Gustavsson with a deke
-Tychonick throws it up the middle to the wrong team (Tralmaks) and Gustavsson makes a nice save on Leier
5. (Red) Off the same play White deflects in Batherson's centering pass
-Great stop by Hogberg off Stewart
-Stewart runs Kelly
-Gustavsson with a nice stop off Chlapik
-Jaros with a big hit on Jordan
-Gendron throws a blind backhander up the middle from his own goal and is very lucky it isn't intercepted inside the blueline
Second Period
-Stewart runs Leier
-Lynch stopped by Hollett on a breakaway
-Novak hits the post
-Jordan out muscles and out skates D'Astous and gets a weak backhander on Gustavsson
-Scarfo stoned by Hollett on a mini-breakaway
-Novak misses the net with a one-timer in the slot
-Hollett stones Gruden
-Hollett stops Gruden on a penalty shot
6. (Red) Lajoie fans on a rebound into the open net, but the puck goes to Sturm who puts it in
-Scheid prevents a goal (wrap-around into an empty net as Daccord over commits)
-Chlapik stopped on an odd-man rush SH by Daccord
7. (White) Burgess with a one-timer off a pass by Crookshank
Third Period
-Mandolese with a nice save off Sturtz
-MacLeod knees Lajoie
-Mandolese stops Sturtz
-Daccord with a stop on Chlapik
-Kaldis makes a good defensively play on Jaros
8. (White) Tkachuk with an errant pass in his own zone which results in Jordan beating Daccord on a bad angle shot
-Mandolese stops an awkward Brown shot in close
9. (White) Nurmi beats Daccord with a bad angle shot
-Stewart blocks Gagne's shot
-Stewart hurts White with a shot from the point
Scouting Reports on FA Signings
I dug up a couple of scouting reports on a pair of free agent players the Sens signed this past season (neither was ever ranked for the draft):
Aaron Luchuk 2015 report from HP (you can read an interview by Colin with him here):
He has good speed and will challenge defenders one on one. He has good puck handling ability…able to create offense with a deceptive shot. He works hard on the backcheck, keeping up with opposing forwards and was usually a key part of the Spitfires penalty kill. … His offensive upside is somewhat untapped playing behind several veterans, so as he moves up the depth chart he will be able to show more of the offense he displayed in minor midget.
Parker Kelly 2017 report from HP:
…relies on his exceptional skating skills and work ethic to create space. His agility and explosiveness are impressive and this allows him to win the majority of his puck races. He is elusive in the cycle game and can evade defenders with his stops and starts. …[able] to keep his feet moving and create turnovers. He is a consistent pest, and he can both strip pucks from defenders and breakup passes with his smart defensive positioning. … When he does have the puck, he continues to keep his feet moving and strives in the cycle game. …not…overly creative but he has above average on-ice vision and has shown that he can make plays through traffic. In addition, he likes to shoot the puck in stride, utilizing a high leg kick, and these shots are a heavy and accurate, forcing goalies to make tough saves. …may not develop into a dominant offensive player, but we expect him to continue to progress
Ottawa's European Drafting
Random thought: I wonder if the absence of Swedes the last two drafts is in response to the Mikael Wikstrand situation (from the fall of 2015). This is around the time Ary M gave the org the tagline risk-averse, which remains just as true today. I've often thought the Alexei Kaigorodov situation from 2006 was a catalyst for the org to avoid drafting Russians and while it's hard to imagine them going for a complete Swedish ban they do shy away from risk, so it's food for thought.
Free Agent Signings
I've been tracking FA signings (specifically those who haven't played in the NHL from Europe, the NCAA, etc) and while there are many yet to come I thought it was reasonable to offer an update. We'll start with Europe since that's what I cover regularly (my most recent list of likely signings is here). From that list eleven players have been taken (highlighted below), with four others from prior lists (Vincent Praplan and Par Lindholm from my 2017 list; Juuso Ikonen from my 2016 list, and Yasin Ehliz from my 2015 list).
Europe (33): Vincent Praplan (SJ), Niclas Westerholm (Nsh), Lukas Radil (SJ), Yannick Rathgeb (NYI), Miroslav Svoboda (Nsh–originally drafted by Edm), Dominik Kahun (Chi), Michael Lindqvist (NYR), Juuso Ikonen (Wsh), Ville Meskanen (NYR), Filip Pyrochta (Nsh), Maximilian Kammerer (Wsh), Carl Persson (Nsh – attended Ott's development camp in 2018), Lawrence Pilut (Buf), Igor Ozhiganov (Tor), Par Lindholm (Tor), Joel Persson (Edm), Saku Maenalanen (Car–originally drafted by Nsh), Juuso Riikola (Pit), Yegor Yakovlev (NJ), Kevin Lankinen (Chi), Patrik Rybar (Det), Ilya Lyubushkin (Ari), Michal Moravcik (Mtl), David Sklenicka (Mtl), Jacob Nilsson (Chi), Bogdan Kiselevich (Flo), Antti Suomela (SJ), Marcus Hogstrom (Cal), Yasin Ehliz (Cal), Brooks Macek (LVK), Martin Bakos (Bos), Michael Fora (Car), Veini Vehvilainen (Clb; drafted rather than signed)
NCAA (16): Zach Frye (SJ), Zach Whitecloud (VGK), Merrick Madsen (Ari–originally drafted by Phil), Cooper Marody (Edm–originally drafted by Phi), Cam Johnson (NJ), Mitch Reinke (Stl), Eric Robinson (Clb), Andrew Sturtz (Ott), Daniel Brickley (LA), Sheldon Rempal (LA), Josh Dickinson (Col), Tony Calderone (Dal), Karson Kuhlman (Bos), Andrew Oglevie (Buf), Jordan Gross (Ari), Ross Colton (TB)
CHL (6): Patrick Bajkov (Flo), Hayden Verbeek (Mtl), Tanner Jeannot (Nsh), Alexandre Alain (Mtl), Brad Morrison (LA–originally drafted by NYR), Aaron Luchuk (Ott)
This article is written by Peter Levi (@eyeonthesens)
5 Comments