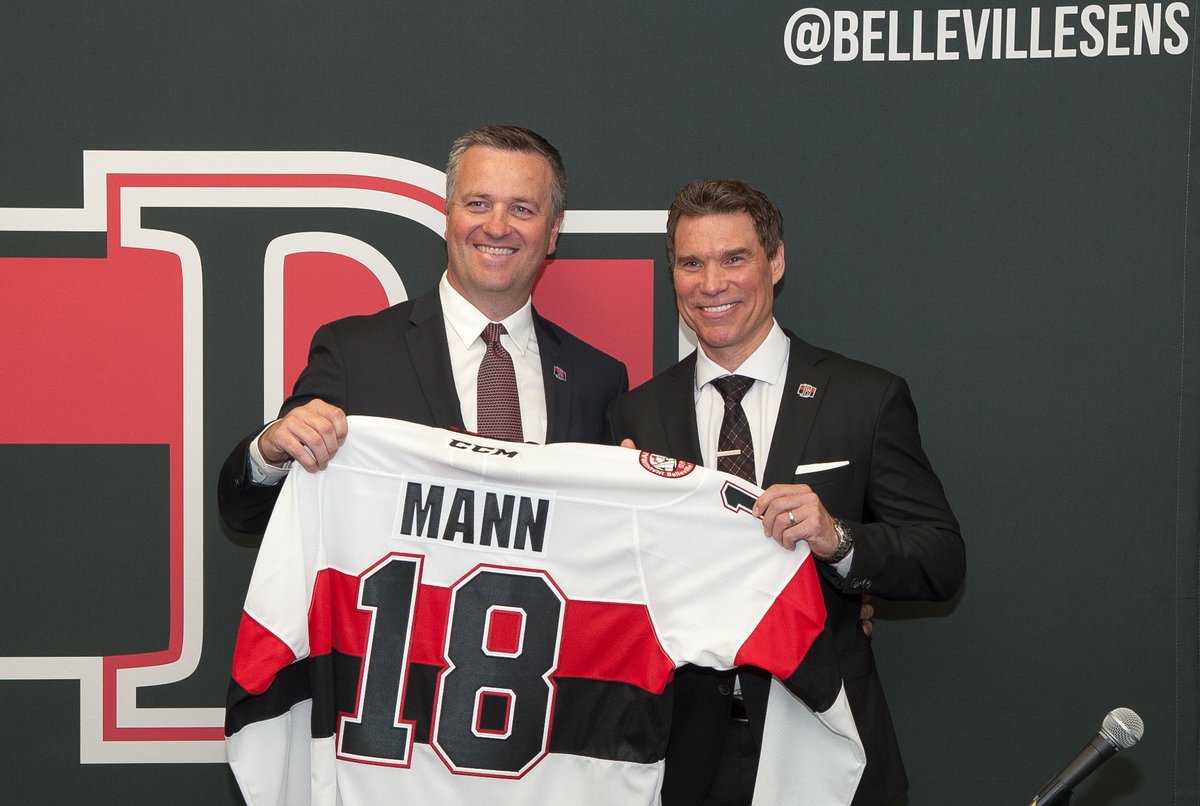 With summer lumbering along I felt like speculating on the BSens lineup for this upcoming season. I wanted to begin with some positives:
Randy Lee's suspension – it took longer than it should have, but the absence of the hockey dinosaur is reaping rewards in the AHL hockey ops–a lot of the foibles surrounding Lee's tenure as GM have been avoided
No roster spot has been wasted on an enforcer [Joseph LaBate was signed after I initially posted this–see below] – the team has played at least two enforcers every AHL campaign with Lee in charge (Darren Kramer/Guillaume Lepine; Zack Stortini/Lepine; Stortini/Lepine; Tyler Randell/Eric Selleck)–these players have used up valuable ice time and done nothing to improve the team's performance or protect the org's assets
Avoided signing obviously declining/terrible players (ala Brad Mills; Stortini/Mark Fraser/Nick Tuzzolini; Mike Blunden/Chad Nehring; Randell/Max Reinhart)
Let Nick Moutrey walk – big guy with decent wheels, he's the kind of raw material the org fawns over regardless of numbers (or lack thereof)
Making/avoiding these choices is not how the org has operated in the past and I applaud them dodging their usual pitfalls.
What about the moves I'm not fond of–what's happened in the off-season that we can concretely critique? There's not much (yet):
Re-signing Patrick Sieloff–he has his uses, but they are extremely limited (32-game pointless streaks require a special kind of talent) and create artery-clogging congestion on the left side (he's better than Andreas Englund, I'll grant you, but that's not saying much)
I've talked about the org's risk-averse approach before and this is what's behind the signing of Mike McKenna (see below)–he's a half-measure that illustrates their fear of going with two prospects while not wanting to invest in an actual starting goaltender (I would much rather the org make a decision one way or another)
[Signing LaBate–while it's an AHL-contract, so he's easily benched or banished to the ECHL, he's not a productive forward, he's simply big]
Prospects Not Signed
There were a number of players–NCAA graduates and those playing in Europe–that the Sens could have signed to join the squad in Belleville and chose not too. It was a foregone conclusion that NCAA dud Shane Eiserman would walk (yet another "energy player"), but local kid Kelly Summers was more surprisingly allowed to walk (probably not an NHL talent, but potentially useful at the AHL-level). Swede Filip Ahl didn't have a good season in the Allsvenskan, so has one final chance to impress, while Finn Markus Nurmi (who did have a good year) will be allowed more time to develop.
Rookies
I've been assuming Christian Wolanin and Logan Brown will be in Ottawa this upcoming season (along with BSen eligibles Colin White and Thomas Chabot) and if that assumption is correct the most exciting rookie in Belleville is Filip Gustavsson. The Pittsburgh pick is yet another in a long line of 'saviours' for the BSens and it will be interesting to see how well he adjusts given Marcus Hogberg's struggles last year (Gustavsson had a hot start before he began to regress to the mean, but he wasn't here long enough to show if he would share the Jekyll & Hyde element that plagued Hogberg's rookie year).
Besides the Swedish goaltender there's a plethora of rookie forwards: 2017 pick Drake Batherson, CHL FA Aaron Luchuk, NCAA FA's Andrew Sturtz and Ryan Scarfo (the latter on an AHL-deal), and CIS FA Boston Leier (also on an AHL-deal). I'm a well-known fan of players with offensive acumen/potential, so I'm chuffed by the Luchuk signing (you can read scouting sentiments here and here) as well as seeing Batherson at the pro level (scouting thoughts here). I wasn't impressed with Scarfo (about whom I have no scouting material to work with), but with an AHL-contract he's not someone the team needs to rely on; I was happier with Leier, but the sample-size was very small (while never ranked for the draft Hockey Prospects did write a profile of him in 2012 which I'll include below).
Non-Rookie Prospects
Hogberg arrived highly touted due to fantastic numbers in Sweden, but struggled in his rookie year (which wasn't great, but not as bad as his numbers suggest). His performance played a role in the signing of McKenna. On the defensive side two disappointing players return: Englund, who despite org praise was a disaster this past season (see also here), and Macoy Erkamps, whom I'm sure the team will try to package in any future deal they make (as they did by dumping Cody Donaghey on San Jose, for example, or Vincent Dunn on Pittsburgh during the season, or Ludwig Karlsson on Dallas long ago). More positively, Max Lajoie returns and we can expect more growth from him; Christian Jaros (who was fantastic as a rookie) will hopefully stay healthy and give us a full season of play. Jordan Murray also returns–he played entirely too much this past season, but I'd expect him to ride the pine barring injuries (how much he plays is one of the litmus tests for Troy Mann).
At forward it's a make-or-break year for Francis Perron, who missed almost half the season due to injury; Filip Chlapik, who is unlikely to spend an entire season in Belleville, is less likely to be jerked around by the coaching staff and it will be interesting seeing him given proper ice time/opportunities (despite bizarre usage he outperformed every other forward on the team besides oft-injured Ben Sexton); Gabriel Gagne is coming off a very strange sophomore season–scoring 20-goals on an offensively awful team is impressive, but producing only 25 points leaves the question open about his NHL-potential. Jack Rodewald is on an ELC I think the Sens wish they could rip up already–they had him on a safe, AHL-contract, but a hot start got Randy Lee excited and they gave him a true ELC–it's clear the 24-year old is what he is at this point–I suspect he won't play as much, at least.
The Rest
In an effort to shore up their goaltending the Sens brought back 35-year old McKenna (who played for the BSens in 2011-12). He's coming off a poor regular season, but a hot playoff; clearly the vet's best days are behind him. There's no upside here–nothing unexpected–you just hope he won't decline much more.
Julius Bergman arrives from San Jose via the Mike Hoffman trade–he's coming off a down year (fueled in part by the Barracudas' 20% drop in total offence)–he provides stability for the right side on defense which was dominated last season by turnover machine Erik Burgdoerfer. The aforementioned veteran remains, but we can hope Troy Mann will cut down on his TOI (he had him in Hershey in 2015-16). On the left side failed first-rounder Stuart Percy means the team won't be forced to play Murray or Englund as much. That said, with Patrick Sieloff retained it's difficult to see any room for Lajoie (mentioned above)–a move is necessary I think (were it up to me I'd dump Englund).
At forward Nick Paul returns, coming off a bizarre third-year where he was either hot or ice cold (as I go over here)–there's plenty of talent there, so is he held back by linemates or is inconsistency what he is at this stage? The oft-injured but excellent Sexton remains, as does Jim O'Brien–the #1 center for much of last season for no particular reason. Jimmy is a solid penalty killer, but he's offensively limited and I hope we see much less of him (Mann had him in Hershey, 2014-15, where he played a lot). Added this season are Adam Tambellini and Chase Balisy (profile below), along with potential #1 scorer Paul Carey (who couldn't convert AHL-success into NHL-success with the Rangers). [LaBate brings us back to earth–a big player who hasn't produced at any level–he's absolutely a Randy Lee-type player.]
Here's a list of all these players by position organized from youngest to oldest (rookies are green, prospects are blue, veterans-status players are bold; junior/European/ECHL stats are in italics; players with 4+ seasons in the AHL have their career PPG in brackets):
Goaltenders (3)
Filip Gustavsson DOB 1998 (t-Pit) SHL/AHL .918 2.07/.912 3.01
Marcus Hogberg DOB 1994 (3-78/13) AHL/ECHL .899 3.27/.915 3.10
Mike McKenna DOB 1983 (FA) AHL .909 2.64
Defense (9)
Maxime Lajoie (L) DOB 1997 (5-133/16) AHL 56-1-14-15 0.26
Christian Jaros (R) DOB 1996 (5-139/15) AHL 44-3-13-16 0.36
Andreas Englund (L) DOB 1996 (2-40/14) AHL 69-1-9-10 0.14
Julius Bergman (R) DOB 1995 (t-SJ) AHL 65-10-10-20 0.30
Macoy Erkamps (R) DOB 1995 (CHL FA) AHL 46-1-3-4 0.08
Patrick Sieloff (L) DOB 1994 (t-Cal) AHL 58-1-9-10 0.17
Stuart Percy (L) DOB 1993 (FA) AHL 67-7-27-34 0.51 (0.38)
Jordan Murray (L) DOB 1992 (CIS FA) AHL 58-8-15-23 0.39
Erik Burgdoerfer (R) DOB 1988 (FA) AHL 66-5-12-17 0.25 (0.25)
Forwards (16)
Drake Batherson CR DOB 1998 (4-121/17) QMJHL 51-29-48-77 1.51
Filip Chlapik CL DOB 1997 (2-48/15) AHL 52-11-21-32 0.61
Aaron Luchuk CL DOB 1997 (CHL FA) OHL 68-50-65-115 1.69
Gabriel Gagne RW DOB 1996 (2-36/15) AHL 68-20-5-25 0.36
Francis Perron C/LW DOB 1996 (7-190/14) AHL 44-4-11-15 0.34
Nick Paul C/LW DOB 1995 (t-Dal) AHL 54-14-13-27 0.50
Adam Tambellini CL DOB 1994 (FA) AHL 69-16-16-32 0.46
Andrew Sturtz RW DOB 1994 (NCAA FA) NCAA 37-14-26-40 1.08
Ryan Scarfo CL DOB 1994 (NCAA FA) NCAA 38-20-16-36 0.94
Jack Rodewald RW DOB 1994 (t-Tor) AHL 62-14-11-25 0.40
Boston Leier RW DOB 1993 (CIS FA) CIS 27-15-24-39 1.44
Joseph LaBate LW DOB 1993 (FA) AHL 39-6-5-11 0.28
Chase Balisy C/RW DOB 1992 (FA) AHL 67-14-21-35 0.52 (0.53)
Ben Sexton C/RW DOB 1991 (FA) AHL 30-10-11-21 0.70 (0.45)*
Jim O'Brien CR DOB 1989 (FA) AHL 60-13-16-29 0.48 (0.54)
Paul Carey CL DOB 1988 (FA) NHL 60-7-7-14 0.23 (0.63)
*I have no idea if Sexton has recovered from the injury that ended his season at the end of March (which I think is a concussion), but I'm pre-supposing he will have by the time Belleville begins playing or at least early in the season
My Lineup Expectations
The season will start with a McKenna–Gustavsson rotation–Hogberg might go to Brampton to begin with (as he did last year). For the latter I think he'll have to wait for injuries to get his opportunity (which is also what happened last year when he was buried behind Danny Taylor and Andrew Hammond).
On defense it should be Jaros and Bergman as the top two on the right side with Burgdoerfer as the third–this is another test for Troy Mann, because Kurt Kleinendorst would have given the latter the top spot. On the left side Percy gets the nod followed by Sieloff and Englund (that's not my preference, but what I think will happen given the above–I'd have Lajoie as my second with Sieloff in the bottom pair to take care of Burgdoerfer). Listing it out, what follows is what I expect:
Percy-Bergman
Sieloff-Jaros
Englund-Burgdoerfer
Extras: Lajoie, Murray (Erkamps to the ECHL)
Forwards are a much more difficult puzzle box. I'm assuming that Troy Mann is like all previous BSens coaches in giving preference to veterans/experienced players, thus I've buried talented newcomers on the fourth-line. I've also slipped Chlapik down to the second line because he's generally played center, but he could easily be flipped with Paul (who also generally plays center). I don't think Tambellini is a true top-six forward, but I think he begins there and that Gagne will at least get the opportunity to start there as well because the org is high on him (it's certainly possible Balisy is here instead, or even Luchuk, but we're following a conservative trend with prospects). The third line is composed of various veterans/experienced prospects. As for my personal preference, the top line is fine (with the aforementioned swap also working), but I'd try out one of the offensively gifted rookies on the second line, shifting Tambellini down. I've kept Rodewald out of the lineup because when healthy I just don't see where he'd fit-in. Perron is more effective at center, but that means playing on the fourth line–the decisions aren't easy. One of the weird things Ottawa has done is signed/drafted shooters almost exclusively–Gagne, Rodewald, Leier, Luchuk, Batherson, Sturtz, Paul, Tambellini, Sexton, Carey, O'Brien–shooters–only Chlapik and Perron are true playmakers (Batherson and Balisy's numbers are a little less slanted than the others). So what I expect:
Paul-Carey-Sexton
Tambellini-Chlapik-Gagne
Perron-O'Brien-Balisy
Luchuk-Batherson-Sturtz
Extras: Rodewald, Leier, Scarfo, LaBate
A look at Chase Balisy: C/RW; 6-170/11 Nsh
2015-16 69-9-17-26 0.37 10th
2016-17 76-17-28-45 0.59 3rd
2017-18 67-14-21-35 0.52 6th
This is another player who is what he is–his most productive AHL-season was his first (2014-15)–he adds a certain amount of offense (marginal top-six production or good top-nine) and functions as insurance for injuries. When I saw that he'd been signed I wondered what that meant given the general crowding of the BSens lineup, but I think this is a sign that the org is moving on from Rodewald (Gagne, Batherson, and Sturtz's are prospects on that side who will be given a chance, while Sexton was the most productive players on the team last year, so where really can he play?). If I'm right I think this is the correct move. He might also be insurance if Sexton is still injured.
And Joseph LaBate: LW; 4-101/11 Van
2015-16 AHL 66-10-10-20 0.30 13th
2016-17 AHL 38-6-10-16 0.42 8th
2017-18 AHL 39-6-8-11 0.28 17th
Drafted out of the US high school system (fairly highly ranked in the draft, I had him in the third round), he arrived in the NCAA and his progression simply halted–his senior year being his least productive. The Canucks signed him anyway and his middling performance continued (I'm guessing he had favourable linemates his first couple of seasons, but not the last). What he does do regularly is fight (7 in just 39 games last year, 6 the year before). There isn't much fighting in the AHL anymore (Tyler Lewington lead the entire league with just 10), so LaBate is one of the most frequent pugilists. These days it's broadly understood how useless fighting is in terms of winning, but the org carries the Luddite torch for this being important and that's reflected in their continued insistence to sign such players. The only positive is that he's on an AHL-deal, minimizing their commitment to him.
As promised here's the Boston Leier 2012 profile:
A two way forward who drives to the net hard and picks up a majority of his points around the dirty areas. Leier is not a great offensive player, but will provide good secondary support. He creates good chances by keeping plays simple. Leier is an average skater, and must improve that aspect of his game. He is of average stature, so he needs to be faster to have more impact during the course of a game. Offensively, Leier is at his best around the net. He seems to get pushed around often around the boards, but around the net, he has shown some good hands to finish and a good ability to find loose pucks and bang them home. He has below average vision and will not be a great playmaker by any means, and nor does he have a wicked shot that commands respect from his opponents. Defensively, Leier plays a tough game and is a good contributor in his own end. He sacrifices his body to block shots, and reads the play at an above average level. Leier can get caught puck watching at times and lose his position. He can recover by sliding to block a point shot, but smart opponents will fake a shot, go around him and have a better chance to score. He needs to stay patient, wait for the puck to come to his area and ensure that he takes away the option to his check with an active stick.
The description of his playing style fits my limited exposure, with the caveat that his speed seemed fine.
Where Former BSens Have Landed
For the sake of curiosity, here's where roster players who finished with the team last season have wound up (excluded those who were traded):
Danny Taylor – Sibir Novosibirsk (KHL); he returns to the Russian team he played for prior to signing with Ottawa
Chris Driedger – Springfield (AHL); Florida's affiliate where he'll compete for the backup position
Ville Pokka – Avangard Omsk (KHL); after almost 300 AHL games he presumably wants to cash in while he's still young
Mike Blunden – HC Bolzano (EBEL); this is the same team where another failed BSen (Chris Carlisle) landed after his contract finished
Tyler Randell – Rochester (AHL); Buffalo's affiliate; presumably coach Chris Taylor thinks the team needs "toughness" or "veteran savvy" after going 0-3 in the first round of the playoffs
Ethan Werek , Max Reinhart , Daniel Ciampini, Kyle Flanagan , Nick Moutrey, Eric Selleck – all remain free agents
So that's my very early BSen speculation. I'm sure things will change over the next month and a half before Belleville's training camp opens, but I don't think we'll see the large number of PTO's that hit the roster as they did last season. There's more talent on this roster and fewer obvious problems (the blueline remains weak and goaltending remains a questionmark), but coaching is going to play a large role in the results.
This article is written by Peter Levi (@eyeonthesens)
9 Comments